Optoma urges its customers to pay close attention to counterfeit lamps.

Why buy an original Optoma lamp?

The lamps consist of two parts - the actual lamp and the lamp holder. Original Optoma lamps are designed specifically and uniquely for Optoma projectors. Counterfeit lamps, on the other hand, can have differences that affect the performance of the projector.

Installing a counterfeit lamp in an Optoma projector could damage the projector and void its warranty. Repairs resulting from damage caused by a counterfeit lamp are not covered by the warranty.

Counterfeit lamps can have reduced performance and lead to a shorter life expectancy of the projector itself.

How do I know if I have purchased an original Optoma lamp?

Most Optoma lamps can be identified by the original Optoma packaging. An example of Optoma original packaging can be seen below.

All genuine Optoma lamps carry a tamper evident sticker (photo below). If the package does not have the sticker or seal broken or damaged, it could be a counterfeit lamp.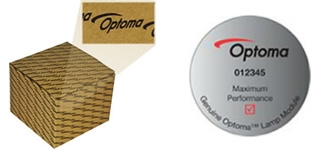 Optoma strongly recommends its customers to install only Optoma original lamps in its production projectors.